Doom scrolling getting you down? Are you calling the unemployment office and never getting through? Annoyed that you STILL can't find Clorox wipes or enjoy a real live margarita with your real live friends?
Instead how about watching the the panda cam of the baby panda born last month at Washington National Zoo.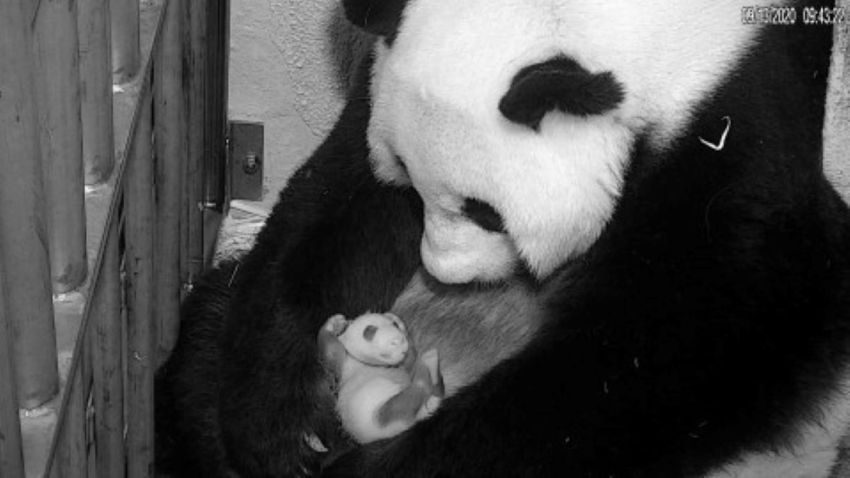 On the panda cam just now I watched Mei Xiang (may-SHONG) cuddling the cub under her chin and then stroking and nursing the cub on her belly. Born August 21 at a hairless 100 grams–about a quarter pound–the baby is a bit of miracle. Mei Xiang is, at 22, the second oldest recorded Giant Panda ever to give birth. The father, by frozen insemination, is Tian Tian, 23 year sold, also of the Washington National Zoo.
The cub hasn't yet declared its pronouns. Just a couple days ago it had it's first vet exam , when it weighed in at an adorable two pounds. A cheek swab DNA test will come back in a couple weeks with a gender. During the exam there's a lot of squealing and clear objection to being away from mom…I challenge you not to be charmed. Early videos looked like a mouse, that became very annoyed when it flipped itself over by accident, but at the vet exam the white and black markings are showing, and in the videos now it is looking even more cub-like.
The small enclosure mimics a den in nature, where the mother will stay for most of the first 100 days or so. The 238 pound mom leaves the den only very occasionally to snack or relieve herself. In the wild mother pandas experience a huge metabolic shift and sometimes go months without eating or drinking to take care of a new baby. Dad? Well, he's off doing his dad Panda thing.
The panda enclosure is closed to the public to give more quiet to mom and baby. Mei Xiang has three other surviving offspring. At four years old the cubs are returned to China where they will participate in the breeding program for Giant Pandas.
This Friday afternoon, 6p.m. eastern time the zoo is having an online fundraiser and they promise an update on the panda. Gender reveal?